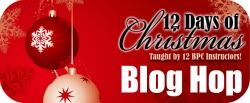 Welcome to the Big Picture Classes 12 Days of Christmas Blog Hop! If you're clicking in through Kelly Purkey's blog, you're in the right place—and if not, well, jump on board now and click through the list below beginning with the amazing May Flaum! We're all sharing a few of our favorite Christmas decorations today and telling you about the upcoming 12 Days of Christmas class (begins December 13) at Big Picture Classes!
click to enlarge
My favorite grouping of Christmas items this year is atop the sideboard in our dining room (which, incidentally, is also the room where we have our tree because of how our house is laid out!). It didn't occur to me until after I had everything set up that the items on this surface are all hand—or nature—made. I have plenty of Christmas decorations I love that were purchased in stores, but I love that this year these things all found each other in one gathering spot. Here's a quick tour:
The Weird Pieces of Wood Stretching Across the Top
OK, OK, so we know it's a little strange, but those pieces of wood are actually the ends of the Christmas trees we've had since we got married, save for two years when we traveled and didn't get a tree. What at first seemed like a funny thing to collect has since become one of our most treasured displays of holiday décor. I'm thinking about sewing a super-skinny red and white runner to put underneath next year—what do you think?
Frame #1
This is my Grandma Watson's hand-carved and printed Christmas card I found in my grandfather's scrapbook last fall and reproduced for my mom and sisters as The Best Christmas Gift Ever. I am so happy to have made one for our house too; this is the first year it's being displayed.
Jar Candle
Last winter my girls and I made a whole slew of these easy-peasy Mason jar candles with white tissue paper and doilies. They're so simple but so lovely, and we'll bring them all out again in January when we need a lift after the Christmas decorations are put away.
Frame #2
I made this frame for a project at Simple Scrapbooks (RIP) a few years ago; it is a treasure because it features a photo from our first Christmas-with-three-children.
Mini-Album
Marie made this mini-album about ten years ago; it features photos through the years of our family's tradition of hearing our father read "Twas the Night Before Christmas each Christmas Eve. There are some very frightening fashion statements inside, which makes it even more fun for our girls to look at. Oh, the 1980s...and really, who are we kidding? The 1990s, too. Eeeeeeeek.

Here's a fakey arrangment on a different table with better light so you could get a better look at the Yuletide frame, the jar, and a few of the Christmas tree ends.
And here's a little info about the upcoming class!

How it works:
For the 12 days leading up to Christmas, you will receive an email from a BPC teacher with a photo prompt and a list of supplies to gather. Preparing specific holiday pictures and products as Christmas approaches will help you focus on the present moments and the joyful anticipation in a more thoughtful way—without feeling any pressure to scrapbook right away! Then, starting on December 25th, you'll get to "open" a new handout each day, designed to guide and inspire you in pulling together pictures and products to complete a dozen different layouts.

At the end of this workshop you'll have created 12 special memories with your family AND you'll have 12 finished pages. Rather than rushing through the holidays this year, give yourself the gift of happy memories documented in a delightfully doable way!

This workshop includes:
+ 12 daily emails from 12 different BPC teachers for the 12 days leading up to Christmas
+ Reminder emails when the classroom is updated with new materials
+ 12 colorful instructional handouts with step-by-step instructions for creating 12 layouts
+ Video messages from each teacher available as streaming videos and transcripts
+ Message board to share your thoughts with your classmates
+ Private posting gallery to share your work and view the work of your classmates
Here's a list of the participating teachers so you can check out more seasonal inspiration! If you're following along in order, please click on May Flaum's name for the next stop on the hop : )
1. Nic Howard
3. Stacy Julian
6. Lisa Day
7. Kelly Purkey
8. Me! You're already here!
9. May Flaum
10. Karen Grünberg
So how about it? Click over to sign up—class begins on December 13!